IVX is a product of KDTS Co. Ltd, Japan. Usually, the Onscreen Recording applications use more system resources and occupy huge storage space. IVX is designed to use low system resources and occupies little storage Space comparing the other competitors.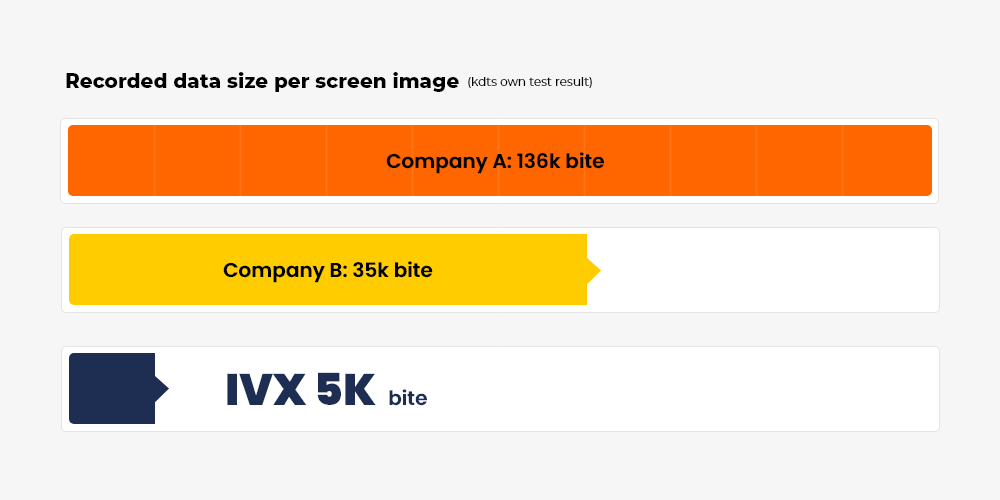 IVX high image compression requires very small HDD capacity (Data is recorded with the following screen image conditions; 1024x768/5 sec interval/ 8 hours/ 16 colors)
IVX is security software for Windows. 
It records on-screen activities of end-users
The client agent will run on stealth (hidden) mode.
Require a minimum of 1 Server license and 10 Client licenses.
License available as Annual subscription.
Client license available as a bundle of 10.
Is there any on screen recording application consumes less storage and system resources?
Yes, we have IVX onscreen Recording Application from Japan
IVX, Records onscreen activities of end users to anlyze proctivity, Effectiveness of Trainings and to support Security Audits.
To get a demo and POC of IVX On Screen Recording Application please share your contact details to info@cicgogo.com with 'IVX Enquiry' as subject our engineer will contact you back at the earliest.